Mr. Roshan Chikanbanjar
Posted as written on December 3rd, 2020. 
After almost a year of discussion and homework, the ISTF-Nepal chapter formally took shape in September 2020. The process began in September 2019, when Dr. Swoyambhu Man Amatya from Agriculture and Forestry University of Nepal had a brief meeting with ISTF Chair, Warren "Keith" Moser, and ISTF Coordinator, Sheila Ward, at IUFRO Congress in Curitiba, Brazil.
Upon returning from IUFRO, Dr. Swoyambhu Man Amatya, accompanied by Mr. Shankar Adhikari and Mr. Bhola Bhattarai, started laying the groundwork for ISTF-Nepal by preparing the chapter's by-laws. The guidance and support provided by ISTF-Global were very helpful in finalizing our by-laws. Similarly, input from ISTF members from Nepal also played an important role in this process. On August 22nd, 2020, ISTF members from Nepal gathered virtually to thoroughly discuss, review, and, finally, approve the by-laws.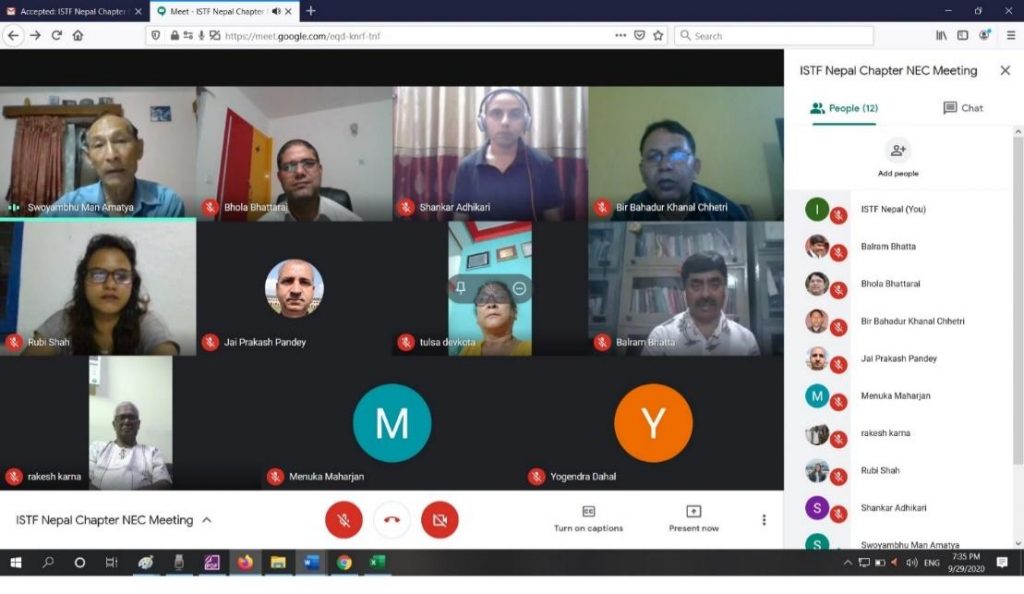 Buoyed by momentum, this same meeting also decided to proceed with an election of an executive body to lead the newly-formed chapter. A three-member nomination and election committee, coordinated by Mr. Rakesh Karna, was formed to officiate the proceedings. The committee prepared an election schedule and completed all of the preparatory work for the election.
After following due procedure, the very first elected executive committee of ISTF-Nepal was announced on September 29th, 2020.
In its first meeting, held on October 10th, 2020, the executive committee discussed the different working areas of ISTF-Nepal and formed a tentative work plan for the chapter for the next two years. Membership expansion, collaboration with like-minded organizations, planning out discussion and talk programs on topical issues regarding (sub)tropical forest management in Nepal, field study, knowledge sharing, and networking were among the many topics included in the discussion.
The executive committee currently consists of seven members and is led by Dr. Swoyambhu Man Amatya, who serves as the Chairperson of ISTF-Nepal.

ISTF-Nepal is a non-profit and non-governmental organization. Its members include forestry professionals, practitioners, and students, who represent various academic, social, and professional organizations from across the country. As a national chapter, ISTF-Nepal will assume a fostering and coordinating role in working with current and future chapters throughout the country.
The main goal of the Nepal Chapter is to promote understanding of (sub)tropical forestry and its sustainability in Nepal and to advance research and dissemination of scientific knowledge among foresters, researchers, policy-makers, and community members. Furthermore, it aims to inform local and international public policies and best practices that affect tropical forest science, its conservation, and management while promoting equitable and ecologically sustainable practices that value and conserve tropical forests by cooperating and collaborating with other organizations.
The ISTF-Nepal Chapter would like to extend its sincere thanks to all who helped and guided it through its establishment. We appreciate and look forward to receiving similar support in the days to come.
If you would like to have more information on the ISTF-Nepal Chapter, please feel free to contact us at: istfnepal@gmail.com.
Author: Mr. Roshan Chikanbanjar, with thanks to Mr. Bhola Bhattarai for his valuable suggestions and Mr. Shankar Adhikari for taking the pains to finalize this piece.